25 yrs or so ago I studied art and was pretty darned good at portraits and dug up some old material I wanted to share.. I have nerve damage so I no longer draw, but I still think about it..
The image below, yes, my ugly mug with red eyes (no, they're not
REALLY
red, just blood shot on some occasions) has some lines on it to sort of illustrate a few proportions that are pretty much universal in human faces. Not all of them are there, just the ones that I thought of off hand, but if you'll notice that the lower eyelid almost always lines up with the tops of the ears, the mouth line with the bottom of the ears. The center of the eyes (pupils) line up with the outermost edges of the mouth and another lesser known proportion is how the distance between the bottom eyelid and the eyebrows is real close to the same distance from the mouth line to the bottom of the nose. Not everyones face is the same obviously and a few faces are way off proportion.. In fact, I had a friend years ago who claimed he was taller than he really was because of the proportions in his face. His eyes sat higher in his forehead than most making him appear much taller.  :o
The face isn't a prefect oval obviously and mine is way off mainly because i had my jaw broken years ago and my eyes look a bit skewed because of how many times they were swollen shut over the years.. I have no teeth under those chicken lips and blah, blah, blah..(I used to like to fight until I finally realized that I suck at it and some other people don't. 

)
If I think of more proportions, if anyone is interested I'll post them.. You can also look at Leonardo Da Vinci's drawings to see many other proportions and there are many he never wrote about. There are proportions in hands in relation to other body parts and so on.. If you know of any feel free to toss in too..
OK, I'm going back to crappy TV..  If you want to learn how to draw portraits here's one method..Some call it the technical method, but it worked for me.
Enjoy.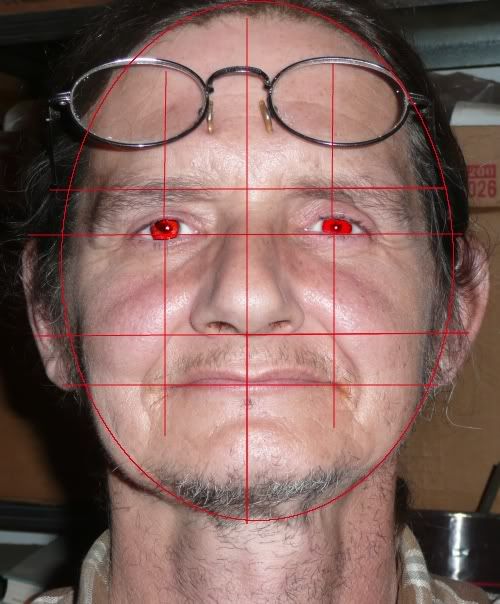 Over 450 Classic Movies..full length and commercial free.. Completely free of charge!
http://freeclassicflix.co.cc
  Enjoy! (link no longer valid //dragon)
"The thought of suicide is a powerful solace: by means of it one gets through many a bad night" -- Friedrich Nietzsche